After THE BURYING PLACE came a Jonathan Stride two-fer: my Stride short story "Spitting Devil" and the novella TURN TO STONE.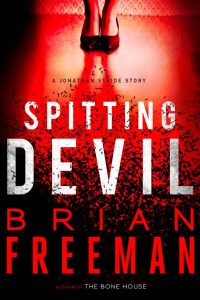 I took a break from Stride for a couple of books back then, writing THE BONE HOUSE (the first Cab Bolton novel, set in Florida and Door County Wisconsin) and then the stand-alone SPILLED BLOOD, which went on to win the Thriller Award for Best Hardcover Novel from the International Thriller Writers Association.
But Stride was still busy behind the scenes. "Spitting Devil" takes place shortly after the close of THE BURYING PLACE and is a wonderfully creepy look at a young wife named Alison Malville who is slowly going insane as she suspects her husband of being a serial killer. (Special note: the Malvilles reappear several books later in crucial roles in the full-length Stride novel MARATHON.)

Then, as we were getting ready for the launch of the next Stride book THE COLD NOWHERE, my editor and I decided to "re-introduce" Stride to readers who had missed him for a couple of years. So I wrote the novella TURN TO STONE, which is all-Stride — no Serena, no Maggie. TURN TO STONE takes Stride to a small town in Wisconsin to visit his mother's grave — and he becomes enmeshed in a very dark mystery. This novella is also the only book in which the ending surprised even me! I thought I knew how everything was going to wrap up…but then, as I wrote the final chapter, the entire story turned on its head. Stride saw it coming — but I didn't. But then again, he's the detective, not me.
"Spitting Devil" and TURN TO STONE were both released as e-book and audio exclusives. Click below to find them on Amazon: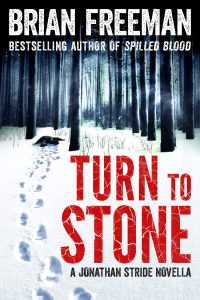 I also have a limited number of special print editions of both stories that we made for sale at library events. You can order those from the Spitting Devil and TURN TO STONE pages at my web site (bfreemanbooks.com).
0
0
Brian Freeman
Brian Freeman
2020-06-26 15:40:36
2020-06-26 15:40:36
A Stride Two-Fer