Have you read THE ZERO NIGHT yet?
This is the 11th novel in my Jonathan Stride series — and yet, as many readers and reviewers have pointed out, you can dive right into this book even if you're new to the series. You'll get a full, rich look at the characters, and then I think you'll want to go back and discover some of their earlier stories.
I've also been thrilled by how many readers have written to tell me this is the best Stride novel yet. That means a lot after almost 20 years in this business!
Here are some of my favorite quotes from readers and reviewers:
"This was one of the best books I have ever read. From the first sentence on, it was gripping, fascinating, embracing, with a climatic ending."
"THE ZERO NIGHT, the 11th installment in Brian Freeman's first-class Jonathan Stride series, introduces us to a keen mystery before flowering into an outstanding character-driven piece about Stride and his wife, Serena….Freeman produces some of his most poignant work to date"
"Races like a speeding bullet."
"This book blew me away and I did not want it to end….by far the best book in this terrific series."
"Perfectly balances plot twists and character development."
I hope you'll get your copy of THE ZERO NIGHT today!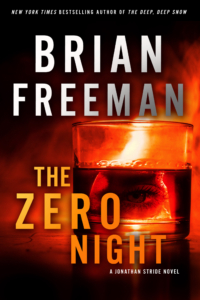 0
0
Brian Freeman
Brian Freeman
2022-11-26 16:08:35
2022-11-26 16:08:35
The Zero Night