The fifth Jonathan Stride novel, THE BURYING PLACE, begins with one of my all-time favorite scenes, as a young Duluth cop named Kasey Kennedy gets lost in the fog on her way home and stumbles into a horrific crime in progress.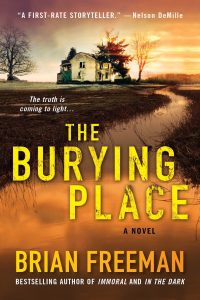 In this book, Stride is recovering in a cabin in Grand Rapids, Minnesota, from the things that happened in the previous book, IN THE DARK — and his relationship with Serena is feeling the strain. I mentioned last week that there's a scene in IN THE DARK that foreshadows all the fissures that break open among Stride, Serena, and Maggie in THE BURYING PLACE.
Interestingly, the characters saw it coming before I did. I didn't know what was going to happen to them as I started this book, and I was shocked to see the direction they were leading me. But around the same time, I got the proofs for IN THE DARK, and I realized that the emotional groundwork had already been laid.
An amazing team of producers is working with the AMC television network to launch a Stride TV series, with season one based on THE BURYING PLACE. So read it now — and cross your fingers that we'll also see it on the small screen soon.
0
0
Brian Freeman
Brian Freeman
2020-06-14 19:21:20
2020-06-14 19:21:20
The Burying Place