After a two-year hiatus, Jonathan Stride finally returned in THE COLD NOWHERE.
I sometimes call this novel the "Duluthiest" of my books, because there are scenes set in many of the city's most iconic locales, including Canal Park, the DECC convention center, and the ore boat museum William A. Irvin (renamed here for my friend and Duluth News-Tribune writer Chuck Frederick). This book also forces Stride and Serena to confront the fractures in their relationship from THE BURYING PLACE.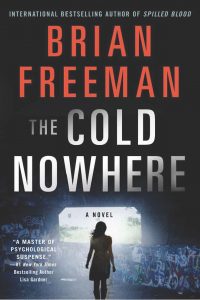 People often ask me how I develop my plots — and there are a lot of answers to that question. Sometimes I'll be inspired by true-life crimes. Sometimes I'll work from a file of ideas and themes I keep adding to whenever a concept pops into my head. And sometimes I simply start with a "scene" and see where it takes me. That's what happened with THE COLD NOWHERE.
All I knew about the book when I began plotting it was that Stride would arrive home late at night and find a teenage girl hiding in his bedroom closet. She's soaking wet, and she says someone is trying to kill her. I didn't know who she was, or why she was being targeted, or what her connection to Stride was — but as I answered all of those questions, the plot took shape.
That scene was also how I introduced the first new series character in the Stride books — the pretty but very troubled teenager Cat Mateo — who has played a key role in every novel since then.
Find it here:
https://amzn.to/3eUaMmh
0
0
Brian Freeman
Brian Freeman
2020-07-07 14:27:57
2020-07-07 14:27:57
The Cold Nowhere