"I know you'll never forgive me for what I did."
That's the opening line of my new book, THE URSULINA, which is available right now in hardcover, paperback, e-book, and audio. It's a novel that goes hand in hand with my New York Times bestseller THE DEEP, DEEP SNOW — and yet it also stands on its own.
THE URSULINA is told by a young sheriff's deputy named Rebecca Colder. Rebecca lives in a remote area called Black Wolf County that is being stalked by a killer hiding behind the legend of the Ursulina…a Bigfoot-like creature that supposedly haunts the forest. The search for the truth about the Ursulina will change Rebecca's entire life and force her to confront an excruciating decision.
You can get your copy today and follow Rebecca as she tells you the shocking story of the Ursulina. And the ending will stay with you for a long, long time.
Click here to find it on Amazon, or buy it from your local bookseller.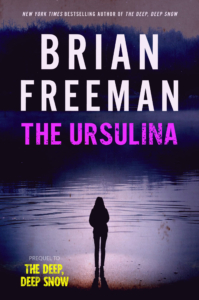 0
0
Brian Freeman
Brian Freeman
2022-02-01 15:31:46
2022-02-01 15:32:24
THE URSULINA is Here