Happy New Year! It's going to be a busy year for book launches.
We are one month away from the February 1 launch of the hardcover, paperback, and e-book editions of THE URSULINA. This is the prequel to my Edgar Award finalist and New York Times bestseller THE DEEP, DEEP SNOW — hmm, or is it a follow-up novel? Or is it both? All I will tell you is that these two books fit together hand-in-glove, and they may well be my two personal favorites of everything I've written.
So I hope you'll pre-order your copy! Why is pre-ordering important? Lots of early orders send a signal to booksellers and reviewers that this book is not to be missed! It's also the best way for books to hit the bestseller list in that first crucial week. So don't wait for release day…get your pre-order in at your favorite local bookstore or online!
Meanwhile, there's lots more ahead in 2022. I'm in the homestretch of my third Jason Bourne novel — THE BOURNE SACRIFICE — which will be released this summer. Then in the fall, get ready for an exciting new stand-alone I REMEMBER YOU and the long-awaited new Jonathan Stride novel THE ZERO NIGHT.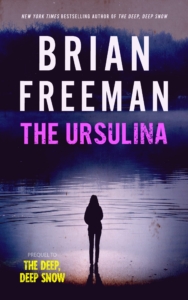 0
0
Brian Freeman
Brian Freeman
2022-01-02 19:57:07
2022-01-02 19:57:43
Coming Soon