What an amazing honor. My novel THE DEEP, DEEP SNOW was just named a finalist for the Edgar Award for Best Paperback Original. I've told readers ever since this book was released that it may be my favorite among all of my novels — so recognition like this is incredibly meaningful to me.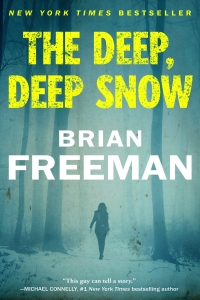 My debut IMMORAL was a finalist for the Edgar for Best First Novel 15 years ago. It's been an incredible ride all these years. Big, big thanks to the readers, librarians, booksellers, and publishers who have been such supporters of my work from the very beginning.
And congratulations to the wonderful writers who are fellow finalists for this award: Jess Lourey, Alyssa Cole, Jessica Moor, and Khurrum Rahman. Go out there and get their books!
0
0
Brian Freeman
Brian Freeman
2021-01-25 17:56:56
2021-01-25 17:57:59
Wow. Just Wow.