Readers first met Cab Bolton in my sixth novel THE BONE HOUSE — which was also my first novel not to feature Duluth police lieutenant Jonathan Stride. I originally envisioned THE BONE HOUSE as a stand-alone, but readers soon demanded to see more of this quirky Florida detective.
Well, after the pure stand-alone SPILLED BLOOD (which won the 2013 Thriller Award for Best Hardcover Novel) and the new Stride novel THE COLD NOWHERE, Cab Bolton is finally back in my all-new thriller SEASON OF FEAR.
So how does Cab Bolton differ from the intense, introspective Jonathan Stride?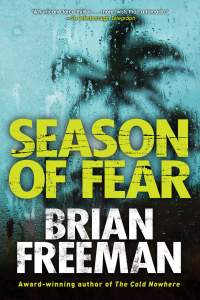 "Sarcasm doesn't suit you," Cab Bolton's mother tells him.
"And yet I stick with it," he replies.
Cab isn't your typical cop.  For one thing, he doesn't look much like a cop.  Imagine a young Peter O'Toole…absolutely amazing blue eyes, spiky blonde hair, skin so perfect you want to know what moisturizer he uses.  He's crazy-tall and wouldn't be caught dead in anything but an expensive suit.  He's got money, thanks to his Hollywood mother, so he's a cop not because he HAS to be but because he WANTS to be.  He enjoys the game. The challenge.  He's clever, and he's good at it.
However, Cab may as well wear a sign that says:  Does not play well with others.  He hates authority.  He doesn't like rules. He's still figuring out what he wants to do with his life. And for most of his 35 years, he's been playing a game of hopscotch, jumping from place to place.  Other cops call him Catch-a-Cab Bolton, because he always has one foot out of town.
He loves women (okay, he has that in common with Stride), but he doesn't trust them.  He's been betrayed by women before, and he grew up with a mother who didn't know the meaning of commitment herself.  So his relationship with his girlfriend Lala is on-again, off-again. There are fireworks in bed and fireworks when they argue. Don't make bets on a long-term affair for them.His other relationship — with his actress mother Tarla — is just as problematic. He lived on the other side of the world from her for years, but now she's back in his life and trying to control it. Tarla made Cab who he is, and he's not entirely sure he likes that. She also keeps secrets from him — like not telling him who his father was or why he has the odd name Cab. So when people ask, he just makes up stories.
One thing about Cab…he's genuinely charming.  Handsome. Funny.  Sharp.  He banters with friends and enemies alike. He's secure about who he is and who he's not.  He takes life seriously — but he doesn't take himself seriously.  Which makes him impossible not to like.SEASON OF FEAR also takes me to a new setting in hot, humid central Florida. Most of my earlier books (except the Vegas-based STRIPPED) have taken place in the American Midwest, with its dirt roads, bitter winters, and dark forests. I love the drama of those settings, and I like to give readers a "you are there" feel, where they are dropped into the middle of every scene and can taste, touch, feel, and smell it happening all around them.
However, Florida weather is typically so darn nice that writers just seem to have fun with it. Many of the great Florida writers are satirists (think Hiaasen) who deliciously profile the offbeat, Jimmy Buffett-meets-Lindsay Lohan attitude of Miami and the Keys. Me, I wanted to see if I could export my love of dark settings to a place called the Sunshine State. Needless to say, some really bad weather is headed for the coast.
Cab is a Florida detective, but will he stay that way? Don't count on it. You can't separate Jonathan Stride from his hometown of Duluth, but Cab doesn't have the same roots. He doesn't have a hometown at all, and chances are, he'll show up in other settings going forward.
Some readers are already asking: Will Jonathan Stride ever meet Cab Bolton? Will they — like Harry Bosch and Mickey Haller — turn out to have some secret family connection that bridges my two series?
No, I don't think so.
Cab and Stride are opposites of each other in many ways. Stride is the emotional hero — driven by his relationships, passionate (sometimes too passionate) about the victims he's trying to help. Cab isn't comfortable with emotions. He doesn't like to go there, because usually, he doesn't like what he sees. And if Stride always seems tangled in a web of women, Cab is a loner at heart. I think Cab and Stride would be oil and water if I put them together in a book.
Then again, I've learned to never say never.
https://bfreemanbooks.com/wp-content/uploads/2016/10/Season-of-Fear-USA-1.png
2690
1794
Brian Freeman
Brian Freeman
2015-04-14 17:28:37
2016-10-07 17:29:04
Stride and Cab
I've never been a fan of putting novels in boxes.
To me, each novel should stand on its own based on its plot and characters, because the styles of all good authors are necessarily different. You may find echoes from author to author, or even book to book, but each novel (even among a series from the same writer) should rise or fall on its unique merits.
Here's an example. The Chicago Tribune review of STALKED said that my books should be on the to-read list for anyone who enjoys books by Harlan Coben and David Baldacci. I'm not complaining! That's high praise to be put in the company of two very successful writers. But my style really isn't much like either Coben's or Baldacci's. Yes, my books are fast-paced, with lots of twists and turns, like their novels, but I don't do suburban suspense like Harlan or political thrillers like David.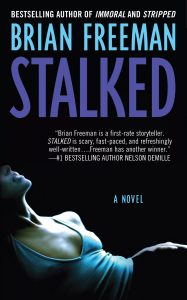 On the other hand, I know it's a useful shortcut for readers. If you like Coben, or Baldacci, or Connelly, or Cornwell, will you like my books? I think you will. But the reading experience will be as different as it is for each of those authors.
If I have to build a box, I want it to be my own box. So when readers ask me to give my books a label, here's what I say: If I had to carve out my specific niche in the big, wide genre of mysteries and suspense, I'd call my novels psychological thrillers.
The drama isn't about how the crime was committed (as in a literary game of Clue) or even really about how the crime is solved (such as in the forensic novels of Patricia Cornwell or Kathy Reichs or the police procedurals of Michael Connelly). Instead, the focus is really on why a crime took place to begin with. What was it about the backgrounds of the characters that drew them across a terrible line?
The result is that, chapter by chapter, the story peels back the emotions, secrets, and sexuality of the characters. Yes, there are police investigating crimes, but their voices are not the only ones in the novel. We are also pulled inside the heads of other characters, and we get to know them as complex, multi-dimensional individuals, not all good, not all bad. The suspense and drama are driven by their actions and motives. As a result, the ending should not only be shocking and unexpected; it also should feel like the last piece in the emotional puzzle and the right psychological resolution.
I actually have a specific goal for people reading my books. I want you to read them twice. The pace should be so fast that you have to keep turning the pages to get to the breathtaking climax and find out what happens and why. But when you're done, I want you to feel compelled to go back and read parts of the novel again, to pick up the nuances of the characters you may have missed the first time. The beauty of psychological thrillers is that, once you know the secrets, the drama of the interactions changes and becomes something completely different. Suddenly, you know the back story; you know what's in the back of the characters' minds. It gives you a whole new perspective on the novel.
That's my box.
https://bfreemanbooks.com/wp-content/uploads/2013/04/Screenshot-2016-10-04-08.25.36.png
382
496
Brian Freeman
Brian Freeman
2014-10-17 17:31:26
2016-10-07 17:31:45
Brian on Psychological Thrillers