It's the holiday season! So I know you'll be making a list…and checking it twice…
Just in case you need some suggestions for gifts for your family and friends (or for yourself), here's a collage of my four most recent novels. THIEF RIVER FALLS was a huge reader favorite; it has nearly 10,000 reviews on Amazon so far. THE BOURNE EVOLUTION — my first Jason Bourne book for the Robert Ludlum estate — was just named by Kirkus Reviews as one of the best mysteries and thrillers of 2020. THE DEEP, DEEP SNOW — my New York Times bestselling Audible Original — is now available in paperback and e-book. And of course, Jonathan Stride is back in FUNERAL FOR A FRIEND, which reads like a stand-alone and is a great place to get to know my long-running Stride series.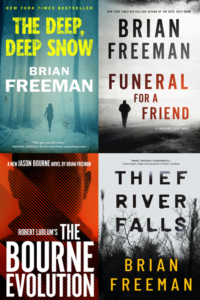 While you're shopping, don't forget to pre-order my next stand-alone thriller, INFINITE, due out March 1. It just got a starred review from Kirkus, which called it "a dizzying delight."
Ho ho ho…and happy reading!
0
0
Brian Freeman
Brian Freeman
2020-11-29 19:32:40
2020-11-29 19:32:40
Making a List