Fifteen years ago, it all began with IMMORAL. This was the novel that launched my career and introduced Jonathan Stride to readers. What a way to begin…a novel sold in 17 languages, Main Selection in the Literary Guild and the Book of the Month Club, and the Macavity Award winner and finalist for the Edgar, Dagger, Barry, and Anthony Awards for Best First Novel.
As we make our way toward the September 22 release of the tenth Stride novel, FUNERAL FOR A FRIEND, I thought I'd highlight each of the Stride novels over the next several weeks. If you're staying home, this is a great time to catch up on the series.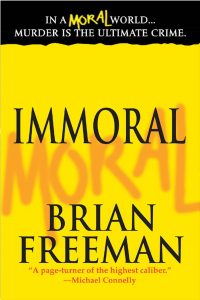 Go back and read IMMORAL and meet Stride, Serena, and Maggie for the first time. As you go through the series, you'll see how they've evolved as characters (and you'll see my writing and plotting style change, too). I want these heroes to be real people, with strengths and flaws, victories and setbacks. Sometimes they'll make mistakes, but that's what makes them human.
The plot in IMMORAL spans several years as Stride tries to puzzle out the truth behind the disappearance of a very twisted teenager named Rachel Deese. I've had a lot of surprises in my books over the years, but the whodunit in IMMORAL remains one of my all-time favorites. As the tagline on the book said, if you think you know how it ends, think again… 
0
0
Brian Freeman
Brian Freeman
2020-04-28 20:27:36
2020-04-28 20:27:36
In the Beginning