I'm continuing my look at the entire Jonathan Stride series in anticipation of the September launch of the new Stride novel, FUNERAL FOR A FRIEND. This week: the second Stride novel, STRIPPED.
STRIPPED is the only full-length Stride novel set outside Duluth. Instead, Stride and Serena must confront a mystery with decades-old roots in the glamour and seaminess of Las Vegas. I love the supporting characters in this book: Stride's gender-bending partner, Amanda Gillen; the bold, seductive Claire; old-style Vegas gangsters like Boni Fisso and Leo Rucci; the secretive, reclusive Hollywood billionaire Walker Lane; and many more.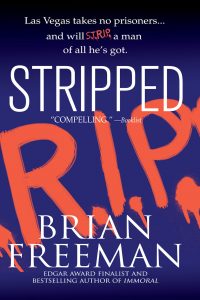 The relationship between Stride and Serena that began in IMMORAL is really tested in this book. Stride is a fish out of water in Las Vegas and knows he won't last here. We also learn a lot more about Serena's troubled past. These two have to decide whether — and where — they can make a life together.
The Florida Sun-Sentinel named STRIPPED one of the top 10 mysteries of the year when it was released, and all these years later, a lot of readers still call it their favorite book.
Find it here:
https://amzn.to/3bvjkyL
0
0
Brian Freeman
Brian Freeman
2020-05-14 13:04:35
2020-05-14 13:04:35
Stride in Vegas