One of the most tragic elements of the bombing at the Boston Marathon was the way it violated an event that was so much a part of the heart of the city of Boston. In many ways, Duluth has a similar relationship with its own annual marathon. So when the tragedy happened, I knew that, one way or another, something like this would have to become a part of Stride's world.
However, I don't write straight terrorism or political thrillers. My books are more psychological, more rooted in intimate family drama. So I needed to find a way to write about a marathon tragedy — but do it in a way that was true to my storytelling.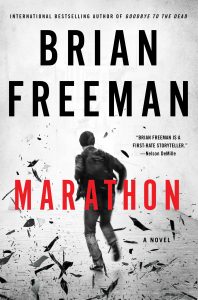 MARATHON was the result. It's rooted in a similar violent act (although I made sure that what happens deliberately occurs offstage). My focus in the book is less on the terrorism itself and more on the aftermath — particularly how suspicion and rumor in the age of social media can tear apart the lives of innocent people. Duluth in MARATHON is at a breaking point (does that sound familiar?), and the novel rips at many of the most difficult social threads before finding ways to bring people together.
This was a tough, emotional book to write. I think it's that true for readers, too. I had readers who felt overwhelmed and wrote to me unsure of whether they could go on — but once they did, I think they felt a great sense of catharsis at the end of the book. So I hope you take the journey on this one — and that you share it with your friends and book clubs. I believe this is a book worth talking about.
0
0
Brian Freeman
Brian Freeman
2020-08-17 14:26:16
2020-08-17 14:26:16
For Your Book Club