THE BOURNE TREACHERY arrives in stores on July 27!
This is my second Jason Bourne novel, following on the heels of last year's THE BOURNE EVOLUTION (which was named one of the top thrillers of 2020 by Kirkus Reviews).
Get signed copies from great indie bookstores like Once Upon a Crime, Poisoned Pen, and Murder by the Book. And join me for one of my upcoming virtual events to go behind the scenes on my work bringing Jason Bourne back to life for a new generation.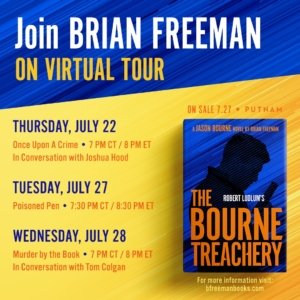 0
0
Brian Freeman
Brian Freeman
2021-07-22 16:17:23
2021-07-22 16:17:23
Jason Bourne Returns