It's here…my new stand-alone thriller INFINITE is available now in hardcover, paperback, e-book, and audio!
WHAT EARLY READERS ARE SAYING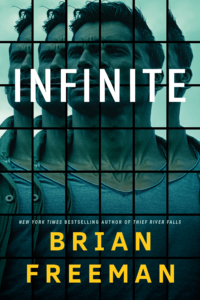 "Wow…hands down the best thing you have written and I love your work."
"I could not put it down! What a great ride"
"Absolutely brilliant"
"Captivating, enchanting, surreal, original, spellbinding, fascinating"
This is the most unusual story I've ever told — but also a classic Brian Freeman thriller. It's full of twists and suspense to keep you turning the pages. It's also a very human story of redemption, as Dylan Moran tries to reclaim his life from the mistakes of his past.
0
0
Brian Freeman
Brian Freeman
2021-03-01 16:16:21
2021-03-01 16:16:21
INFINITE