"Fiendish Freeman"
Apparently, that's my new nickname. My latest stand-alone thriller I REMEMBER YOU is available now, and here's what Kirkus says in their starred review:
"Fasten your seatbelts. Fiendish Freeman has engineered another peerlessly bumpy ride…. Wheels within wheels within wheels, cunningly intermeshed by a master who sweats every nightmarish detail."
I REMEMBER YOU is about a young woman who's revived after her heart stops — and finds herself haunted by dark memories that seem to come from someone else's life. Publishers Weekly compares the book to the medical thrillers of Michael Crichton and says, "Freeman keeps the twists coming."
Bookreporter chimes in: "With the release of I REMEMBER YOU, author Brian Freeman has conceived something unlike anything I have read from him previously and the end result is a fiendishly clever novel that will keep you puzzled and surprised right up to the final pages."
There's that word again. Fiendish!
Are you intrigued? You can get your copy right now in e-book, Kindle Unlimited, audio, hardcover, and paperback…and start reading this weekend!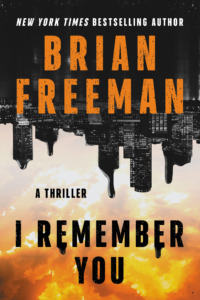 0
0
Brian Freeman
Brian Freeman
2022-08-13 16:13:51
2022-08-13 16:13:51
Fiendish Freeman