Thanks to the explosive reach of the Amazon First Reads program, my latest thriller THIEF RIVER FALLS has spent the last several days at #1 in the U.S. Kindle Store. I'm particularly pleased to reach so many readers with this novel, as it may well be my personal favorite of everything I've written.
I'm also overwhelmed by the response I've gotten in e-mails, reviews, and social media posts. Here are just a few samples of what readers have been telling me:
"Wow I just wanted to say thank you. Thief River Falls is the best book I have read in years."
"I can't remember the last time I cried reading a book."
"This was amazing! I would have given it more than 5 stars on Goodreads if I could."
"I started Thief River Falls yesterday and finished it today. Wow!!! This was a non-stop thriller…the kind of book you stay up all night reading."
This is a very special book to me. Many thanks to all the readers who have made it a part of their lives. I hope you'll keep posting those online reviews and sharing your thoughts with me. And don't forget to tell your friends!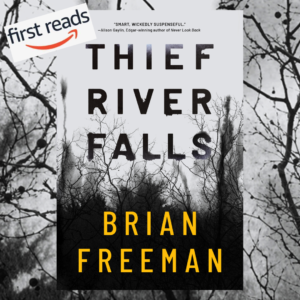 0
0
Brian Freeman
Brian Freeman
2020-01-06 16:39:01
2020-01-06 16:39:01
#1 Bestseller