You typically see the plot of my books through the eyes of several different characters. Stride, Serena, and Maggie are always there – but so are victims, perpetrators, and innocent bystanders. Their stories intensify the emotion of the thriller, because every crime has ripple effects that change lives in unexpected ways.
I want these characters to feel "three-dimensional" on the page, but I'm often writing about people with very different experiences from my own. To bring them to life, I need help.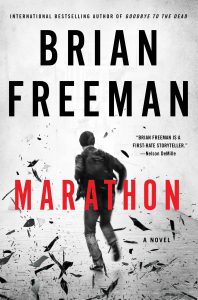 For example, the characters in MARATHON include an ordinary Muslim family – husband, wife, and child – whose world is turned upside down by a violent attack and its aftermath. This family should feel as genuine and sympathetic to the reader as next-door neighbors. However, my own experience has given me little interaction with Islamic life or culture from which to build realistic Muslim characters.
Online resources are always valuable when doing character research, but I wanted something more personal – so I reached out to members of the Muslim community in the Twin Cities. There was initially some wariness in their response. Too many popular thrillers deal with Muslims only through the lens of Islamic extremism, and I had to persuade them that I wanted to write a story with greater depth and nuance. When they understood what I was trying to do, they were very gracious in sharing personal stories with me.
In the end, I had the opportunity to talk about day-to-day life, culture, and religion with several members of the Muslim community and to observe one of their Friday prayer services. Their generosity in sharing their values, beliefs, and fears was essential to my research. I hope I've lived up to their trust by creating Muslim characters in MARATHON who are sincere, flawed, heroic, and misguided in equal parts – in other words, people who are exactly like all of the other three-dimensional characters I try to bring to my novels.
https://bfreemanbooks.com/wp-content/uploads/2017/02/Marathon-Cover.jpg
2775
1836
Brian Freeman
Brian Freeman
2017-04-19 22:36:51
2017-04-19 22:36:51
Three-Dimensional Characters