So I got a package in the mail from Random House yesterday. It turned out to be an author's copy of the large print edition of my new Jason Bourne novel, THE BOURNE TREACHERY.
It's great to see that large print editions are still around. They're a little more rare these days, because many people who want larger font sizes have turned to e-books. But a lot of readers still love to have that physical book in their hands — and that's great.
Of course, what really struck me was the back cover. There were two photographs side by side — mine and Robert Ludlum's. I've been tackling Jason Bourne for a couple of years now, but even so, I never fail to get a little shiver up my spine when I see me and Ludlum on the same book cover. He was one of my favorite authors growing up, and Marcia can attest that the latest Ludlum novel was always on my Christmas list.
Now, all these years later, it's an amazing thrill to be carrying on his legacy. If you'd told me when I was reading THE BOURNE IDENTITY in 1980 that I'd be writing Jason Bourne novels forty years later, I would have thought you were crazy. But here we are. Enjoy the new Bourne book!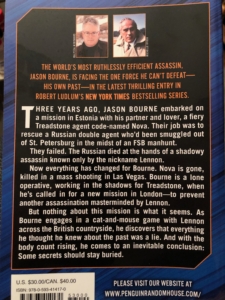 0
0
Brian Freeman
Brian Freeman
2021-09-12 20:18:05
2021-09-12 20:19:29
Ludlum and Me