You can find me in lots of places online, and Marcia and I love interacting with readers. My website at bfreemanbooks.com contains information about me and all of my books, including book club discussion questions and links to buy them. You can find me on social media, too, whether it's Facebook, Twitter, or Instagram. If you like my pages, you'll always be up to date about new books, special sales and deals, and virtual events.
Also, if you're not on my e-mail list, you can join the list by clicking here. I do a regular newsletter with news about books, video interviews and reviews, event announcements, and much more. So add yourself to the list!
And don't forget…my new book INFINITE comes out March 1. You can pre-order now in hardcover, paperback, e-book, and audio.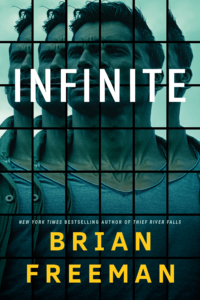 0
0
Brian Freeman
Brian Freeman
2021-01-11 19:37:33
2021-01-11 19:37:33
Let's Connect