This week,  a look back at the third Jonathan Stride novel: STALKED.
After Stride's stint in Las Vegas, I knew he would come back home to Duluth. And I knew I wanted to write an ice-cold winter thriller. I like to give readers a "you are there" feel with my settings, so to capture the genuine flavor of a Duluth winter, Marcia and I spent all of January 2006 in a little cottage out on Park Point near Lake Superior. (Yes, imagine how thrilled she was with that adventure!)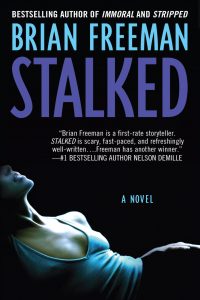 So if you read STALKED and really feel like you've got ice balls hanging from your eyelids, that's because I was out on the Lake Superior beach in the midst of a winter storm, with my voice recorder, taking down exactly how it felt.
I also loved the old 1890s-era cottage where we stayed — and I decided to make it Stride's home. So that's where Stride has lived in the series ever since. It's actually a rental cottage, and readers and book clubs now go to stay there and soak up the Stride atmosphere!
STALKED may well be the darkest of any of my Stride novels…cold, violent, and sexy. And those scenes out on the frozen lake? They're still some of my favorite writing. Enjoy!
0
0
Brian Freeman
Brian Freeman
2020-05-23 18:24:55
2020-05-23 18:24:55
Ice-Cold Thriller