My New York Times bestselling mystery THE DEEP, DEEP SNOW finally arrives in a paperback edition on October 27. You can click here to learn more.
This book first appeared as an Audible Original last year, with narration by the amazing actress January LaVoy. I listened to the whole audio edition myself recently, and I have to tell you, I had tears running down my face. She does an absolutely magnificent job. Even if you're not a fan of audiobooks, this one may well convert you.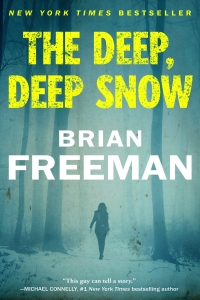 Ever since, readers have been clamoring for a print edition. The book came out in e-book earlier this year, but never fear, the print edition is almost here, too. I hope you love it, because this book may well be my favorite novel of anything I've written.
"Enthralling," said Publishers Weekly in their starred review. "Freeman brings all the characters to life, highlighting their strengths as well as the darkness that lies within each of them, thus adding a delicious sense of uncertainty as to their motives. Readers will have a tough time putting this one down."
0
0
Brian Freeman
Brian Freeman
2020-10-20 15:12:58
2020-10-20 15:12:58
First Time in Print