From Marcia at facebook.com/theauthorswife:
Over the years, Brian and I have attended hundreds of book events and Meet & Greets, and had the pleasure of meeting thousands of fans. The venues have ranged from bookstores, to restaurants, to private homes, to wineries…and of course, to libraries. When Brian's not busily at work writing away on the next book(s), we love the chance to visit with his readers. The welcome that we receive everywhere is so heartwarming.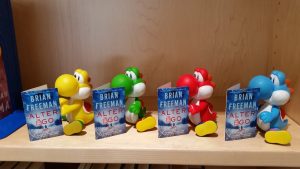 But one of the challenges these days for authors…and really all event planners…is getting the word out. With so many opportunities for activities…and so many ways to reach people…sometimes planners need to get creative—just to grab their clients' attention.
With that in mind, the Adrian Branch Library in southwestern Minnesota has raised their marketing to a whole new level…! We all know that libraries operate with limited budgets…so a number of years ago, the branch manager knew that she needed to come up with an inexpensive way to connect with adults and children to keep them informed. And so, "The Library Dragons" were born (hatched?)…! These adorable little creatures help the library get the word out about all of their programs and their upcoming activities. And the best part is…even though the population in the Adrian area is about 1,100 residents, the adventures of the Library Dragons are now followed and enjoyed by thousands of folks around the world—including Europe, Asia, South America…!
We'll be visiting the Adrian area in a few weeks…and can't wait to meet them—and especially the librarian who created them—in person…!
Oh, and it looks like the Library Dragons are already prepping for our visit…!
https://bfreemanbooks.com/wp-content/uploads/2018/04/Dragons-with-Alter-Ego.jpg
1121
1992
Brian Freeman
Brian Freeman
2018-04-06 14:22:40
2018-04-06 14:22:40
Watch Out for Dragons