From Marcia at facebook.com/theauthorswife:
Although I can hardly believe it, this month marks the fourth birthday of my page, The Author's Wife…and in that time, the number of friends who connect with me here has grown to over 1,400…! Of course, we've talked about Brian's books and events…but I've also been able to tell you about some of the fun and funny things that happen to us, both at home and out on the road. Several of my personal favorites were when I got to transport the baby bobcat…dried a pair of Brian's jeans with a hair dryer and a hotel radiator…found our neighbors' missing dog because a Duluth-based friend saw the notice online…trapped bugs with a vacuum cleaner…collected bathroom toiletries…and of course, thawed our friends' garage door opener with a heating pad (we DO live in Minnesota, after all…!). Just FYI…sometimes I know it's hard to keep up…so if you've missed these or other stories, they're all still there for you to take a look.
And of course, it's great fun when you chime in with your thoughts and stories, too…!
But, I think the best part of it all…is keeping in touch with all of you…! Thanks for being here with Brian and me…and we look forward to keeping in touch with you in the future…!
(And a special thank you to those "party animals," the Adrian Branch Library Dragons, for their good wishes, too…!)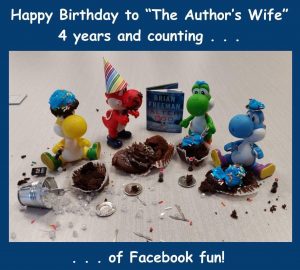 https://bfreemanbooks.com/wp-content/uploads/2018/04/Dragons-and-TAW.jpg
1332
1481
Brian Freeman
Brian Freeman
2018-04-18 16:31:12
2018-04-18 16:32:11
Four Years of Fun