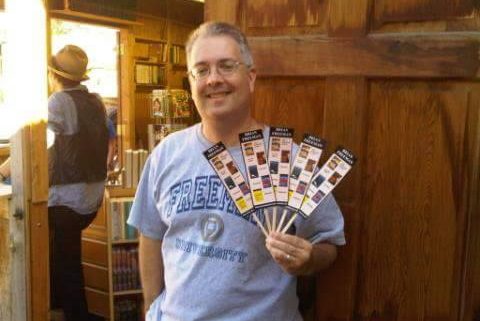 From Marcia at facebook.com/theauthorswife: Although summer is winding down and schools are back in session in many parts of the country, in Minnesota the end of August means it's time for the Minnesota State Fair. For 12 days, ending on Labor Day, hundreds of thousands of people flock to the fairgrounds daily to see all sorts of exhibits, meet up with friends, attend concerts…and of course, consume every kind of junk food imaginable.
And topping the list of favorite foods are those that can be deep fried (mini-donuts, candy bars, cheese curds, etc.)…and foods on a stick (corndogs, cheesecake, bacon, spaghetti, etc.). Yes, you name it, and you can find it fried…or on a stick…or both…!
Brian and I love to attend the fair and often go several times each year. He's even done guest appearances there. In fact, several years ago, one of our favorite local bookstores had a booth out there and asked Brian if he would come and hang out there to chat with readers for the afternoon. Needless to say, Brian jumped at the chance to do so. As an added perk to people who stopped by, we wanted to come up with something to giveaway that was right in keeping with the theme of fair foods…so we gave it some thought and finally came up with the perfect idea.
We designed and printed up bookmarks with a complete listing of Brian's books to date—then attached them to sticks. And voila…"Brian-on-a-stick" was born…! They were a HUGE hit…and we gave away hundreds…!
These days, there are too many books to fit onto one bookmark…so Brian-on-a-stick is history…! But, we still go every year…and have a great time…along with the other almost 2 million other attendees. No wonder it's called the "the great Minnesota get together"…!
https://bfreemanbooks.com/wp-content/uploads/2018/08/Brian-on-a-stick.jpg
360
480
Brian Freeman
Brian Freeman
2018-08-28 17:48:28
2018-08-28 17:51:22
Brian On a Stick