A great benefit of Brian's career as an author is all of the wonderful people we meet at events and here on Facebook. And last year around this time, I met a lovely woman who saw one of the pictures that I posted here on Facebook…one with Brian and our neighbors' adorable little dog Maggie. She is a fan of Brian's books…and she just happened to live in an area that Brian and I were going to be visiting on that very same day! Talk about coincidences…!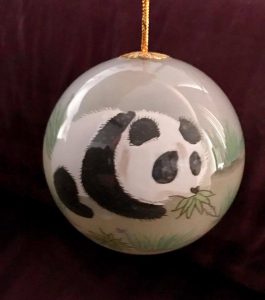 Since that time, she and I have become wonderful friends…we exchange messages and talk regularly and we try to get together whenever our schedules permit. Last night was one of those times…and I was so touched when she gave me a very special gift…this hand-painted Christmas ornament…! Of course, I'm a cat lover…but I'm also a panda lover—having seen live pandas at the San Francisco, Washington DC and London zoos. Over the years, Brian and I have collected panda-themed items, many of which are prominently displayed around our house. In fact, you should see our stuffed panda collection.
As I sit here, looking at this beautiful ornament—and thinking about how wonderful it is that Brian and I have friends and fans around the world–I can't help but also think…"uh-oh, Christmas isn't really that far away…!
https://bfreemanbooks.com/wp-content/uploads/2016/10/Panda-Ornament.jpg
960
848
Brian Freeman
Brian Freeman
2016-10-12 19:51:19
2016-10-24 20:35:37
Panda Lover